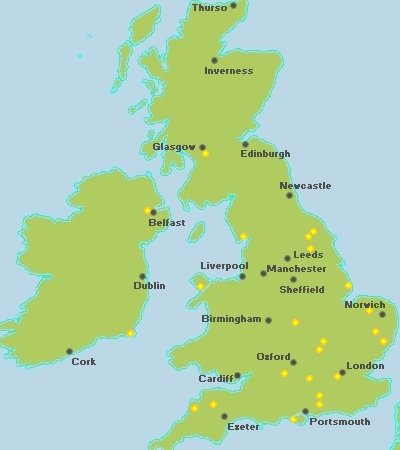 Below is a list of Museums and Private Collections in the British Isles, approximately ordered from North to South. The approximate position of the museums is marked on the map by a yellow dot. Click on the dot to put the museum entry at the top of your page.
We would love to know of Ferguson- related Museums and Private Collections not listed here. If you find one, please email the Web Editor, with as much detail as possible.
The owners of Private Collections listed here all welcome visitors, and love talking about tractors with other enthusiasts, but please arrange your visit with the owner in advance- don't just turn up. In some cases, Private Collections may only be open on certain days of the year.
Thanks are due to William Waddilove, Duncan M Dornan, Andrew Bell, Brian Nicholson, Steve Williams, Graham Starling, Barry Collins, Michael Spellman, John Moffit, Louise Jenks, Franne Wills, George McGhee, Elsie Cowper, Harry Henderson, Charles White, Murray Shanahan, Michael Thorne, Graham Holland, Colin Hitchcock, and K.M. for information supplied.