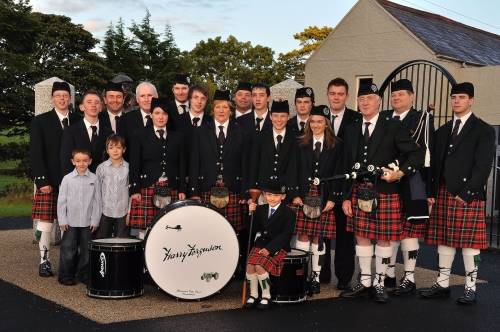 Local musicians from the Growell, Drumlough area decided to start a new pipe band to encourage many people from all age groups to join up. This idea came about in early 2008 and only a few local names were on board, namely Alastair Magowan and Lexi Burrows. The band started to grow and a great mix of ages were keen to be part of this country pipe band, even though quite a few other well known pipe bands were close by such as Drumlough, Gransha and Leapoges. This did not mean another band was impossible and in fact quite the opposite as most of the other bands are very much in competition mode throughout the year and here we have up and coming competition for the future.
The new band have acquired some instruments and are very lucky to have tutors and leaders to move things forward. However this band did not have a title, until one day it was mentioned that as the band was within reach of the birthplace of Harry Ferguson why not apply for the title The Harry Ferguson Memorial Pipe Band. So who better to ask but the Harry Ferguson Celebration Committee at Growell? The Ferguson committee were approached just before the unveiling of the memorial stone in Hillsborough Park which celebrates Harry`s 100 year anniversary flight August 2009. It was then that the committee approached the Ferguson family for the rights to use the Ferguson name and signature on the base drum. The answer was of course yes and in fact as the granddaughters of Harry entered the Hillsborough Fort on unveiling day Pipe Major Lexi Burrows piped the party in . This was another great day in the history of Harry Ferguson both commemorating his 100 year flight and the start of a pipe band with a perfect title. The Harry Ferguson Pipe band also led the Festival of Flight Parade down Newcastle main street in August as a tribute to Harry in aviation in 1910.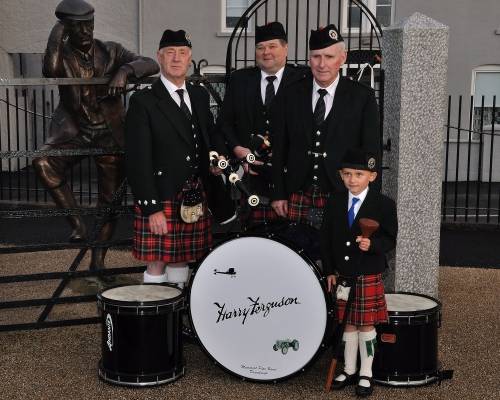 The Harry Ferguson Committee are indeed delighted to have this local band bearing the title and showing the committee logo, it was another proud event to have the band all together on the memorial site standing beside Harry himself. The committee wish the memorial band every success as they set off to become professional in marching, concerts and competitions: we are proud to have you under the Ferguson name and we hope to employ the band at some Ferguson events in time to come.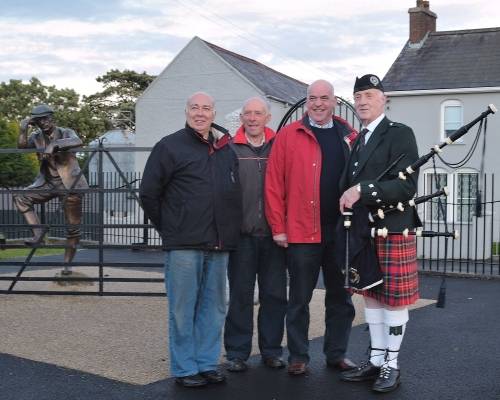 ---