We all know what an immense change the three point linkage made to mechanized farming, allowing the use of mounted implements.Fifty-odd years later, many of us (me included) are still trying to work out just how it all works. Well, here's my explanation...
The Bits...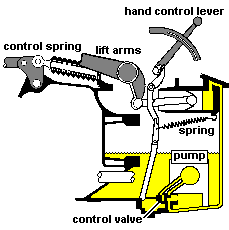 There's a lot of bits in there, but I've ignored most of them, simplified the rest, and then taken liberties with parts such as the pump and the control valve. I've also painted the external components in the wrong shade of grey, and dyed the tractor oil yellow...
Control spring: this is the big spring which the top link is connected to. When the implement (e.g. plough) meets with more resistance (in the soil), it pivots around the lower links, and puts pressure on this spring via the top link
Lift arms: er, the arms which do the lifting... (shrug)..
Pump: not drawn in detail here...
Control valve: this is difficult to represent in two dimensions, so it has been "re-designed" here- don't attempt repair of your tractor using this diagram... The valve has three positions:

Forward: (toward the front of the tractor) oil is allowed into the pump, and then forced into the ram. The oil path through the control valve is via a hollow annulus around the spool.
Middle: no action: no oil movement.
Rear: oil is cut off from the pump inlet; oil is allowed to drain out of the ram, lowering the lift arms.

Fork assembly:
Don't skip over this bit: that's where I went wrong. The important bit about the fork assembly is that it pivots around the point marked "a", which is mounted on a link connected to the top link. It also has a "knee" at the point marked "b". The "knee" is normally held straight by the fork retracting spring. At the top of the fork assembly is a "shoe" which is pushed forward when you push the control lever down.
---
The Action...
The following pages will be slower to download (image size is 44 and 33 kb)
Hydraulic Lift shows the action when an implement is raised and lowered.
Depth (Draught) Control shows the action when, say, the plough meets more resistance in the soil .
Safety Device. Well named: before Ferguson, tractors tried to invert themselves (with driver) when a buried obstruction was met. More information on the safety device soon, if any interest is shown....
The author would like to acknowledge Johan Bakker, of the USA, and John Gaunt, of Australia, for their comments and assistance in things hydraulic.
---